Whether you're a freelancer or manage a team of graphic designers in a big agency, chances are you already know what Dribbble is. If by this point you already have a profile there, you must be wondering: how do i use it to promote my portfolio and, most importantly, gain new commissions.
I asked the designers from JCD about their experiences with the platform. Let's see what we can learn from our insights.
First of all, it's not easy to get on Dribbble. The platform is serious about building an engaged, high-quality community hence the invite-only membership system. the number of invitations is limited - it is strongly dependant on a user's quality of work and their profile's activity. Invitations are often distributed through a designer's blog or YT channel. They can also be found on facebook groups devoted to web design.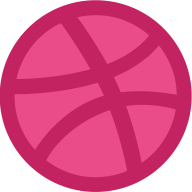 Why do I need it?
What's the buzz, why bother? Should I waste my time actively trying to get inside this exclusive Dribbble community? There are a bunch of reasons attracting graphic designers to become Dribbblers. First, the most obvious one - inspiration. I can't think of a designer who doesn't need up-to-date knowledge of the latest trends. In this business you are either at the top of your game or end up designing leaflets for a local vhs dealer. If you want to grow - you've got to learn, and to do so you'd better start following profiles bigger than your own and look at the trends they are setting.
In Dribbble I like the fact that only users who got the invitations get the opportunity to share their work - it sets high standards for the work displayed on the platform. What's also important to me is that you can count on receiving community feedback and inspiring comments on your project .
Artur
Another benefit is the portfolio - it's the easiest way to gather and display the work you are most proud of. You don't need to build an entire website - your Dribbble profile will be the space to show off your skills. Does a freelancer need anything more to get commissions? Even big agencies name Dribbble when asked about their top choices for getting new clients.
In Dribbble I appreciate the ability to cooperate easily with foreign clients, designers or agencies, on a scale I have not heard of before. Exchanging inspirations and experiences, networking beyond geographical distances and time zones - It's definitely one of the biggest advantages that Dribbble has to offer.
Adam
Dribbble helps to build reach and credibility - over a thousand followers might be your certificate of reliability and quality, that will make a potential clients choice about who to hire much easier.
Graphic design studios use the platform as tool for employer branding, actively looking for new employees to join their teams.
Finally - if the rumors can be trusted, Dribbble might be a source of traffic for a website ( good news for both a freelancer or agency) - but personally we have not seen this trend. In our case, the entire communication between company and potential client goes through internal messages using Skype, Slack or email.
I value Dribbble for the high quality of showcased projects. It's an exclusive community of superb design artists from across the globe. Huge advantage that platform provides is the fact that headhunters from top-notch agencies use Dribbble in their work. If you are good enough - forget about seeking a job - it will find you. Same with commissions - at some point everything starts happening by itself but first you need to do a really good job to get the ball rolling.
Arek
Dribbble gives me access to inspirations from around the world, even from the biggest brands like Google, Apple or Microsoft. It's a place that sets trends in the UI/UX sector. It is here where I look for inspirations for new icon sets, UI kits, branding or illustrations. I also appreciate that you don't need to put up very demanding presentations (look : Behance) in order to put it out there and gain respect  of your followers - a good shot with attachments of our project is good enough (no unnecessarily sophisticated presentations necessary).
Damian
What matters on Dribbble?
To experience any of the advantages listed above, you not only need to set up an account - you have to act! What matters most then? Hearts? Followers? Views? Rankings? The platform offers numerous methods to make your profile stick. Lucky you, If you are in the Popular section - a set of works that got the most likes from their upload date. Most popular shots of the week might be featured in the newsletter. Dribbble keeps local and world-wide rankings in individual and team categories - the criteria for the ranking can only be seen by the platforms creators but it is very likely that the algorithm takes the number of followers, activity and mean number of likes per project into account.
There are two more categories in which we can try our chances and get more recognition. Works in the debut category are most often liked. They are solid projects uploaded by newbies. Projects that are a creative response to other's shot are called Playoffs and are also quite popular.


You need a strategy!
Starting a Dribbble account you should consider setting a strategy in order to use it to its full potential from the very start, right up to reaching your particular goal: creating an online image, creating portfolio, building up a community of followers or gaining new commissions. Detailed plans might be different depending on what you aim for but we believe there are some universal rules. Here is a list of protips, carefully curated with a little help from our design team.
What should I upload then?
most popular shots are of interfaces. UI/UX is certainly Dribbble's staple, same for illustrations.

lean projects, good readability, clean looking and visible: all you get to attract viewers attention is 400*300 px. Use it wisely - upload shots, that look good in this scale. Use vivid colors but remember not to make your project too complicated.

show the best elements of your project in the main shot - most viewers will never look into the attachments - this might be your moment to shine

your profile is your portfolio. you don't need to put everything in there - stick to the stuff you are really proud of.

consistency is important - people follow you because they liked your work. Although changing your style all the time might earn you a diverse audience you might end up being considered chaotic. Work on your individual style instead, first get recognition and then experiment within your style's boundaries.

at the same time follow trends, do not to stand out too much from what's on top. Check how your style resonates with the current fashion (that come and go). Be playful, test things out, be confident.

concepts and redesigns are great exercises of style. They are a great source of content as well, especially if you don't have any of your own work you could share with your followers. Any excuse is good enough to create a new, better project!
I recommend doing your best when creating the welcoming shot - it might give you a head start. Buying a Pro account is worth it because it enables you to add attachments with a full view of your works. Uploading projects systematically is of highest importance if you are in it to get high reach, earn new followers, and in effect get plenty of commissions and job offers.  
When and how much to upload?
You might be a great designer but without showing off your skills on a regular basis you will remain unnoticed by your potential followers.  

get your work out there often, but not everything has to stay in your portfolio - sometimes it's great to show something rather small, just to tease your audience with activity on your profile and make an excuse to interact.

upload when you think you will get as many likes in a short time as you can. Getting 50-100 hearts in first 2 hours from uploading gives the highest probability of getting to Populars!

find the best time window for your target group; consider checking in which time zone your target group resides. The most universal time for our time-zone is between 9 and 11 am when all of Europe is either getting to work or drinking their. During this time they will most often sit with their devices and scroll through Dribbble as a warm-up; By the time people in Asia are having lunch and those in the States are getting up to check the feed next morning your project might've already hit the Populars!
Don't get discouraged when you don't get your 10k followers the first week - although you might sometimes get the feeling that the measure of a designer's skill is in fact the number of followers or likes under their works. Above all, it's important that you stay consistent and work methodically. If you are at the beginning of your career I recommend that you upload less complicated projects with higher frequency than the opposite. Freebies also attract user's attention.
Damian
I think "Pro" pays off. "Pro" gives more opportunities when it comes to showing off your projects and following statistics. After careful analysis of your achievements you might draw certain conclusions and make informed changes which will improve your viewability and in effect chances for getting that job.  
Artur
What else is there to know?
when you get to populars or go high in the ranking, Dribbble will suggest your Profile for other users to see

It is of highest importance to stay active in the community : get in touch with other users, comment on their work. Thank them for constructive feedback, be helpful and pay it forward.

Descriptions : tell stories behind the project. Be short and clear but make it in an engaging manner. Don't forget to use bolds and bullet points.

Tag your activity, use popular keywords.

Be up to date with the latest trends, check for what is hot among others

use social media to further promote your shots. Use Dribbble Facebook groups from around the world, use other platforms as well.

Improve quality - with the number of followers expectations of your users will grow. Learn, observe trends, don't mess it up or your followers will start drifting away.

Observe others and learn from the best. We like to see what Balkan Brothers, Ueno, cuberto are up to. If you want to check us out - here is our profile : https://dribbble.com/jcd   
Dribbble as a selling channel
If you want to use Dribbble as a way to get your commissions, treat it as a natural process and an element of your sales funnel. Learn to sell, read about generating and serving leads in the B2B sector. Get a strategy together, set goals, be persistent.
Respond to messages in max 12 hours. Give comprehensive answers and move conversations to Skype when possible. Remember about follow ups - remind the clients, who have not answered your messages with valuations. Ask why they turned the offer down, gather feedback for the future and learn from your experiences. Sign contracts, put careful conditions about the scope of your work and gratifications in order to sustain legal security.
Analyse what actions bring the best effects. Draw conclusions. Learn on your mistakes. Not everything that works with others and has already been described in a blogpost(not even ours) will necessarily work in your case!
The main takeaway is : there are no shortcuts here! What pays off is persistence, hard work and constantly improving the quality of your work. If you are a weak designer, unless you try hard and exercise, learn and look up to people better than yourself - no golden rule will help.
A treat for persistent ones! If you got so far, it probably means you really care about learning  your lesson here. If you are a designer just starting out, you sure could use some help! First three people that will contact us at [email protected] will receive unique opportunity of consulting their portfolio and getting constructive hints on how to improve it with the best designers in JCD.pl and Symu.co !
Newsletter
No spam - only valuable content!: